, Fisheries and environemne,In 2003, Cabinet approved the transfer of scientific research functions of the South African National Antarctic Programme (SANAP) from the Department of Environmental Affairs and Tourism (DEAT) to the Department of Science and Technology (DST). Funding of Antarctic research has come a long way since The Royal Society of South Africa presented a token 25 pounds to Robert F Scott towards scientific work on his 1913 expedition to Antarctica. South Africa's funding of research connected to the Antarctic received a 30% boost in 2004/2005 and Department of Environmental Affairs (DEA, previously known as DEAT) has committed itself to increasing its annual funding.
As of 2005, DEA and DST have agreed to some exciting additions to the research opportunities offered by SANAP. The research community is challenged to "break the ice" (without the S.A. Agulhas this time) and thrash out creative ideas and new directions. Researchers in the social sciences (politics, international relations, and sociologists), humanities (literary studies, visual arts and cultural studies) and law (Law of the Sea) as well as engineering can now participate in SANAP.
Department of Forestry,Fisheries and Environment (DFFE, previously known as DEFF and DEA) retained responsibility for all logistics and infrastructure. Through SANAP, the department has maintained South Africa's research presence in Antarctica and the Prince Edward Islands. The scientific data that is collected during voyages is critical to the understanding of amongst other things, the impacts of climate change and weather information associated with extreme events.
The National Research Foundation (NRF) became the agency responsible for grant making on behalf of the Department of Science and Innovation (DSI, previously known as DST). SANAP slips neatly into the NRF's vision of bringing knowledge to life, especially its aim of a prosperous South Africa and African continent both steeped in a knowledge culture and proud contributors to the well-being of humanity.
South Africa maintains a station on Antarctica as well as on Marion and Gough Islands. These stations are managed and administered by DEFF.
The beginning
How We
Got Involved
.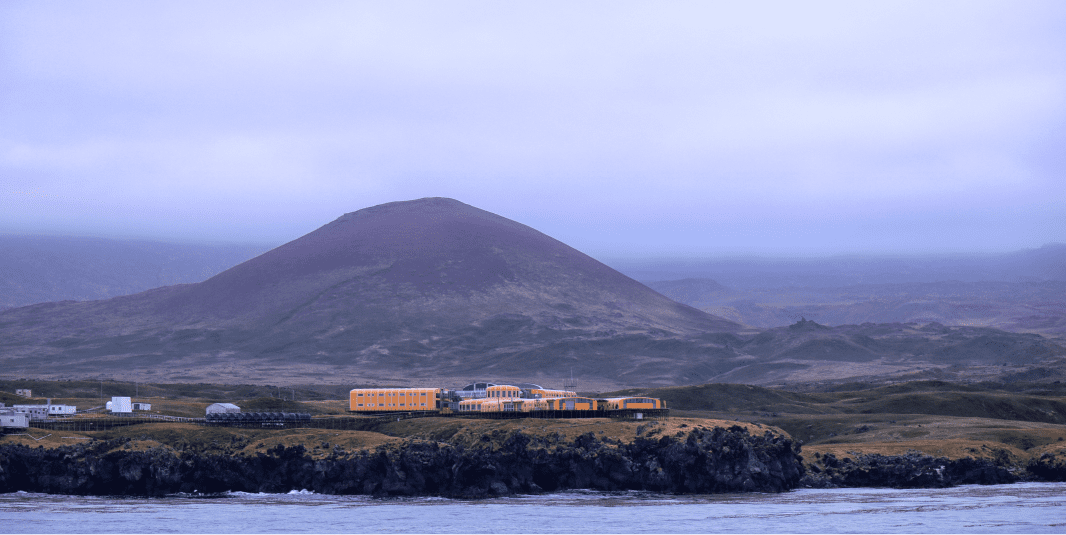 South Africa's involvement in Antarctica and the sub-Antarctic islands dates back to the earliest voyages of discovery, due to the then Cape of Good Hope's position as a stopover for explorers, whalers and sealers.
After World War II, South Africa became more formally involved, undertaking meteorological expeditions to the Prince Edward Islands (Marion and Prince Edward Islands). A permanent weather station was established on Marion and the annexation by SA of these islands was concluded in 1948. In 1959 the first South African National Antarctic Expedition (SANAE) was undertaken, establishing a permanent presence on Antarctica that endures to this day.
Working together
International
Responsibility
.
South Africa, along with eleven other countries, is a founding member of the Antarctic Treaty of 1959. This Treaty, now consisting of
53 Parties
, establishes the legal framework for the management of the region. Signatories undertake to ensure that the Antarctic region will be used for peaceful and scientific purposes only and to protect and preserve the environment.
Three basic principles are enshrined in the Antarctic Treaty System (ATS). To a large degree they account for its success. (Download information pamphlet)
The continent may be used for peaceful purposes only. All military activities are prohibited; including military manoeuvres, the establishment of military bases, and weapon testing.
Scientific investigation and cooperation are promoted. The Treaty emphasises the importance of scientific activities and specifically provides for freedom of access to scientific investigation.
Territorial claims are placed on hold. The Treaty neither recognises, disputes nor establishes any territorial claim.
SCAR MEMBERSHIP
Over the years, South Africa has become party to various activities pertaining to the Antarctic, including the Scientific Committee on Antarctic Research (SCAR). SCAR is an international body operating within the International Council of Science (ICS) framework. SANAP, via SCAR, submits an annual report to ICS. Several South Africans participate in international SCAR standing committees, working groups, groups of specialists and capacity building programmes to promote the involvement of young scientists.
COMNAP MEMBERSHIP
South Africa is a member of Council of Managers of National Antarctic Program (COMNAP). COMNAP is the international association, formed in 1988, which brings together its Members, who are the National Antarctic Programmes. National Antarctic Programmes are those organisations that have responsibility for delivering and supporting scientific research in the Antarctic Treaty Area on behalf of their respective governments and in the spirit of the Antarctic Treaty​.
COMNAP's purpose, which can be found in its Constitution, is to "develop and promote best practice in managing the support of scientific research in Antarctica".
CCAMLR MEMBERSHIP
South Africa is a member of Commission for the Conservation of Antarctic Marine Living Resources (CCAMLR). This is an international commission with 25 Members, and a further 11 countries have acceded to the Convention. Based on the best available scientific information, the Commission agrees a set of conservation measures that determine the use of marine living resources in the Antarctic.
Looking ahead
Objectives
.
SANAP plays a crucial role in conserving this living laboratory – the coldest, windiest and driest place on Earth. Studies done in the Antarctic are inextricably linked to our understanding of the entire Earth system and signals in Antarctica indicate past and future global changes. SANAP recognises the global and national importance of safeguarding the environment of the Antarctic and Southern Ocean and protecting the integrity of ecosystems, both marine and terrestrial, in the region.
The programme takes cognisance of the presence of natural resources (both renewable and non-renewable) and the increased interest in their possible utilisation (both consumptive and non-consumptive).