Get to know
S.A. Agulhas II
.
S.A. Agulhas II is a South African icebreaking polar supply and research ship owned by the Department of Forestry, Fisheries and the Environment (DFFE). She was built in 2012 by STX Finland in Rauma, Finland, to replace the aging S.A. Agulhas, which was retired from SANAP duty, but is fulfilling a training role with SAMSA since 2012. Unlike her predecessor, S.A. Agulhas II was designed from the beginning to carry out both scientific research and supply South African research stations in the Antarctic.
Click here to download the permit to go on board the S.A. Agulhas II.
Permit needs to be mailed to permits.sag2@amsol.co.za
Preliminary Voyage Schedules (Supplied by DFFE):
Get to know
S.A. Agulhas
.
The mv S.A. Agulhas was South Africa's polar research vessel. She was in service for more than thirty years (1978 – April 2012) and has completed her term of service for the South African National Antarctic Programme. She was used to service the three SANAP research stations in the Southern Ocean and Antarctica as well as doing various research voyages. She spent most of her time out of harbour.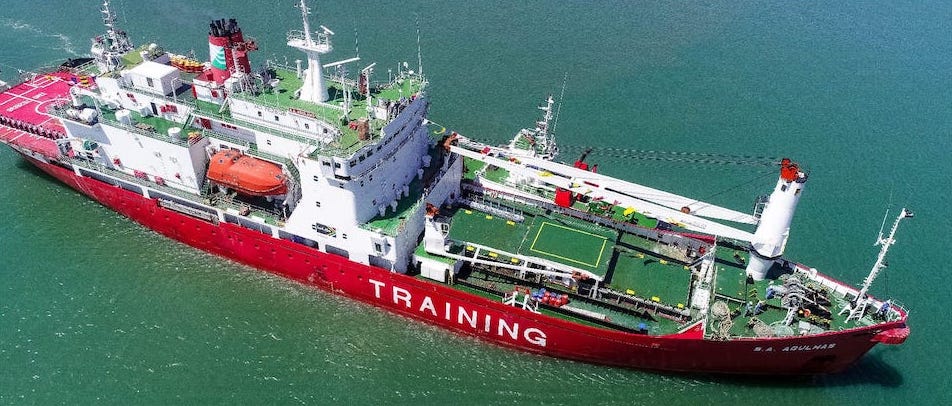 The 1573-tonne R.S.A. was South Africa's first Antarctic supply vessel. She was built in Osaka, Japan, launched in September 1961 and arrived in Cape Town on her maiden voyage by year-end. Following the placement of the first two South African (SANAE) overwintering teams in Norway station, Dronning Maud Land by the Norwegian vessels Polarbjørn and Polarhav in 1959/60 and 1960/61, the R.S.A. took down the third team in early January 1962. On her voyage south she also carried a Public Works team and materials to construct South Africa's first Antarctic station, known as SANAE I. In 1971 she supported the building of SANAE II, as the first station was becoming uninhabitable with snow built up above it, burying it ever deeper. She was able to carry a light helicopter such as a Westland Wasp or an Alouette III.
In the next 16 years the R.S.A. (nick-named by some "Rolling Slowly Along") made visits every year to South Africa's meteorological stations on Gough and Marion and in Antarctica to relieve teams or on special voyages for medical or other emergencies. During her life as an Antarctic ship the R.S.A. had three Masters: Kenneth McNish, Ernst Funk and William "Bill" Leith. In 1978 she was replaced by the S.A. Agulhas.
Once her Antarctic career was over the ship joined the South African Navy, known only by her pennant number A331 (pronounced "Azzi") without any Navy name. Following a conversion and a new paint job of white and buff (traditional oceanographic survey ship colours) she then spent two years undertaking clandestine electronic surveillance off the coasts of southern Angola and northern (as it was then) South West Africa, now Namibia. In 1980 she was converted into a static training ship for merchant seamen in Cape Town Docks. She ended her life partially demolished for scrap but then was sunk once asbestos came to light: a sad end to South Africa's first Antarctic ship.