Greetings to the friends, families and followers of the M75 team!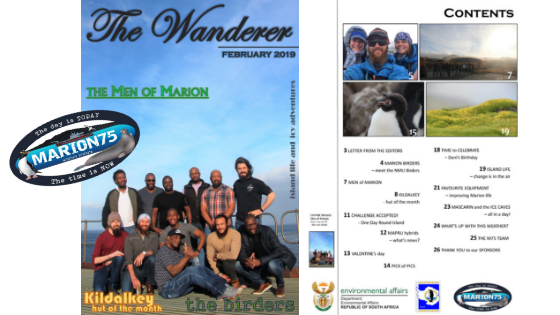 And so goes the second month of the not-so-new-anymore year. It has been another wonderful month on this incredible island! The Christmas trees (correction: one of the Christmas trees) have just been packed away and the base is visibly tensing for the onslaught of the upcoming take-over month. The new M76 team has started training in Cape Town and we are all getting ready to show them the ropes when they arrive. But despite the approaching conclusion to our adventure, we have still been having a fantastic time here in paradise!
Winter is coming, and fast! February saw a very noticable shift in weather as the winds pick up, temperatures drop and the interior recieves a regular dusting of white. Field workers have been busy as the last of many of the newest generation of island birds leave their nests and the fur seal pups grow at an alarming rate. The iconic wandering albatross have mostly settled down and the first few chicks have even hatched. There is still a lot of work to do, both outside and in the lab, before the ship arrives. We have been in high spirits back at base and still enjoy our weekly braais, a couple of birthdays and other fun events.
This edition of The Wanderer (February 2019) is packed with great photos and the amazing experiences that we have been enjoying here! We hope you enjoy them all too!
Kind regards,
the Wanderer Editing team
Authors: Elsa van Ginkel (Editor) and James Burns (Co-Editor), 75th Marion Island Overwintering Team, 19 March 2019 (received 14 March 2019)
Click here to view all the Marion Island newsletters available on the Antarctic Legacy of South Africa Archive.