Greetings to the friends, families and followers of the M75 team!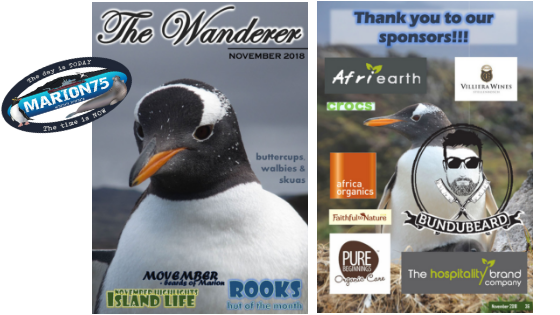 November has swept by in a whirlwind of activity! The elephant seal breeding season has come to an end with a record number of new born pups but there has been no time to rest for the sealers as the fur seal population begins to boom. The birders have been busy non-stop with penguins, albatross and petrels all incubating eggs or raising chicks. The botanists have been traversing the landscape in search of the often elusive vegetation and there are even a few flowers brightening up the landscape as you'll soon read.
Back at base, things are running smoothly and we are all getting into the festive spirit as Christmas approaches. Colourful decorations and even a couple of Christmas trees have considerably livened up some of our more frequented living areas. The weather, although windy as ever, has definitely been warmer on average and more sunny which has provided great opportunities to be out in the field for work or play.
We have tried to capture some of the highlights in this month's edition of the Wanderer (November 2018) and hope you all enjoy reading the stories and checking out the photos of this amazing place and it's amazing inhabitants!
Kind regards,
the Wanderer Editing team
Click here to view all the Marion Island newsletters available on the Antarctic Legacy of South Africa Archive.
Author: James Burns, 75th Marion Island Overwintering Team (Meteorological Observer), 10 December 2018