SANAE 58 published their last newsletter for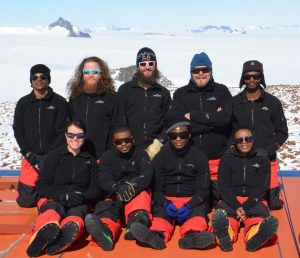 their time spent at SANAE. The newsletter is now available on the Antarctic Legacy of South Africa's archive.
Jacques Robbertze (Team Leader ) message in their last newsletter:
"This will be our last newsletter regarding our time here and I want to take this opportunity to thank all our family, friends and sponsors for their ongoing encouragement and support through-out the year. I would also like to thank the Department again for providing us with this unique opportunity to have come here and form part of the South African National Antarctic Programme.
During this last part of our time here, we will have a formal handover function where the new SANAE 59 team will take over and soon after that we will be departing Antarctica for the sunny shores of South Africa and beyond. We will soon be going home and wish the new team all the best for their time here."
ALSA is looking forward for the team to arrive back in Cape Town in February and will collect some of their images to preserve on the archive.