Today, 62 years ago, 12 countries (including South Africa) signed the Antarctic Treaty. On the 1st of December 1959, Antarctica was set aside for peaceful and scientific purposes. This day is celebrated all over the world. Join the Scientific Committee on Antarctic Research (SCAR) related celebrations, see events here.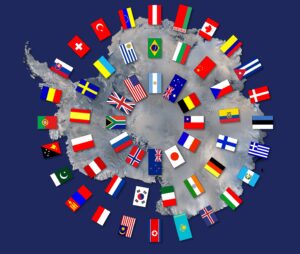 Currently, over 50 countries have signed the Antarctic Treaty. In the image (left), flags are displayed of countries (52 flags) that have signed the Antarctic Treaty by 2015. Read more about the treaty here.
Let us be reminded of the 26th United Nations Climate Change Conference (COP26), held in Scotland earlier this year, where the Glasgow Climate Pact was made. We all need to work together to limit the global temperature rise to 1.5 degrees. See what Minister of Forestry, Fisheries and the Environment, Ms Barbara Creecy commented on the outcomes of the international climate change talks at COP26 (click here).
An unnamed Antarctic glacier was named Glasgow, honoring the city where COP26 took place and new agreements were made to take rapid action against climate change (read more here).
The South African National Antarctic Programme contributes climate change research in the Antarctic, sub-Antarctic, including the Southern Ocean.
Want to know the history of the South African National Antarctic Expedition station? Read more about the current and previous South African stations here.
Antarctic Legacy of South Africa, 1 December 2021