Watch the amazing video by Alexander Oeloefse made during the 2019 -2020 takeover period at SANAE IV. AN interview with the driver s of the Bulldozer equipment.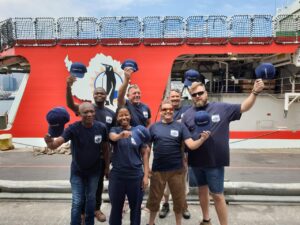 These driver teams are part of South Africa's Antarctic Legacy. Read more about them on the ALSA webpage. The team during 2019-2020 was Thabang Tshupo, Bertus Roos, Andrew Kietzmann, Riaan Marx, Thabo Thebe, Thato Mareme and Markus Viljoen.
Video credit: Alexander Oelofse
Ria Olivier, Antarctic Legacy of South Africa.