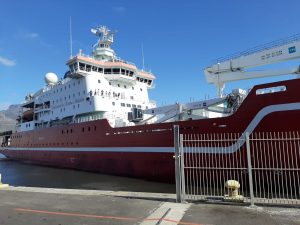 It is the first time in the history of the National Antarctic Programme of South Africa(SANAP) that there were no family and friends to wave farewell to M77 overwintering team members for the Department of Environment, Forestry and Fisheries offices of Oceans and Coast at East Pier at The Victoria and Alfred Waterfront in Cape Town. The S. A. Agulhas II departed with only crew and a very reduced team and a few takeover personnel. Judy Beaumont farewell speech is available on the digital repository.
The same scenario will happen when M76 return to Cape Town at the end of the week. When M76 departed for Marion in 2019 there were many family, colleagues and friends to say goodbye, but when they return by the end of the week there will not be family and friends to welcome them back after more than a year on Marion Island. COVID-19 pandemic has an influence on SANAP logistics, science and research.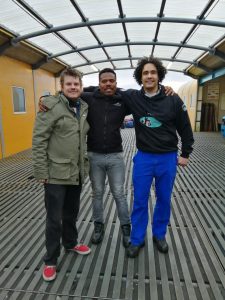 Before the M76 team members left on Marion there were a few goodbyes before taken by Ultimate Heli to the S.A. Agulhas II. Three team members from Marion 76 is staying behind to complete the few personnel that will be staying on Marion Island. Foto above- left: Marius(M76), Khulisa (M77) and gerald(M76) Foto above right: Philane(M77) and Gerald(M76).
Marion Helipad with S.A. Agulhas II in the back on its way to Cape Town.
Bye end of week we would like to welcome Marion 76 back in Cape Town!
All the best Marion 77!