After stormy weather at the dawn of 2021, the SA Agulhas II arrived at Penguin Bukta at 11h30 UTC on 4 January!

This year the vessel entered notable ice cover at 67° 50′ S. It was mostly easy going with some ramming during the early hours of 4 January. The later departure of the SA Agulhas II has resulted in ice navigation later in the summer. The ice is more depleted by now and navigation has been more straight forward.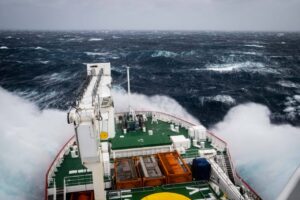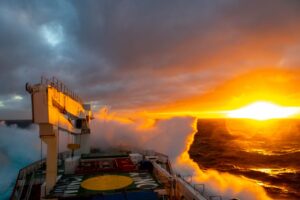 The SA Agulhas II skirted a storm in her approach to Antarctica. She was peppered with winds of 50 to 60 knots underway. (Left) If you are lucky enough to escape motion sickness the sea spray from bow slamming compliments the spectacular sunset. (Right)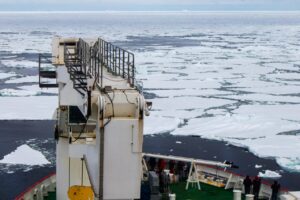 The ship enters notable sea ice on the morning of 3 January. Here the ice floes are about 10 m in diameter and concentrated at about 80% with some snow cover and only a few centimeters of ice thickness. (In our science we also visually observe the ice and our 'data' may vary due to subjective opinion – Do you agree?).

The ice cover becomes increasingly dense but the ship is not required to show her steel yet – owing to the voyage being postponed later in summer. How will her later departure in March influence the ice conditions and will she need to show her steel then?
On 4 January the SA Agulhas II arrived at the ice shelf in Penguin Bukta to bask in the calm after the storm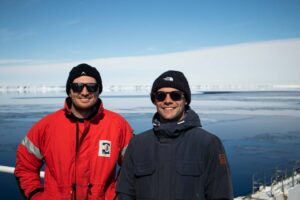 Thank you to Nicholas Bunn and Karl Pferdekamper (Stellenbosch University, Department of Mechanical and Mechatronic Engineering who are on board and have sent this information). Poor internet hampers their access to Facebook, but they could get this information to Prof Bekker via WhatsApp. Photo credits: @Karl Pferdekamper.
Text by Prof Annie Bekker of the Sound & Vibration Research Group of the Department of Mechanical and Mechatronic Engineering at Stellenbosch University.