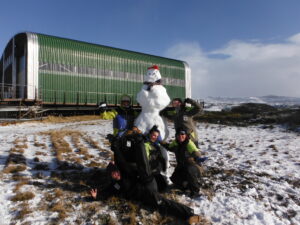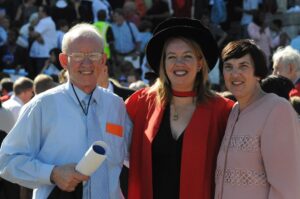 Mariëtte Wheeler – regular freelancer for Antarctic Legacy of South Africa was born and bred a proud Pretorian girl. But my passion for the ocean developed throughout my childhood as my grandparents lived in Knysna. In my late teens I found myself staring at the ocean, wondering what it looks like beyond the horizon.
After completing my BSc, BSc honours and MSc in Zoology at the University of Port Elizabeth (currently Nelson Mandela University), I had the opportunity to explore beyond the horizon on Marion Island in 2004–2005 as a member of M61. My PhD was done through the University of Cape Town (with Prof Les Underhill and Dr Marienne de Villiers as supervisors) and University of Pretoria (with Prof Marthán Bester as supervisor). I investigated the effect of human disturbance on the seabirds and seals at Marion Island. My team mates of M61 called me the hybrid birder-sealer as I was fortunate to work on both. I have fond memories of working closely along with the other field workers. For my behavioural observations of the animals I spent days in the cold with semi-frozen fingers and toes, but it was fantastic to be so close to these animals in their natural environment. Chocolate and condensed milk saw me through for energy. I made great friends on this trip who have been standing by me through celebrations but also the difficult times in life.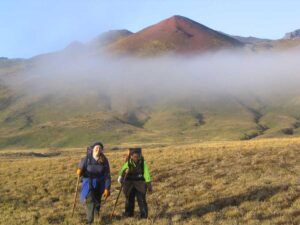 For the second year of my study I had a field assistant Prideel Majiedt on Marion Island and I supervised from here. One of my best round island trips was during the take-over of 2005 with Prideel(right), Marienne and John Cooper. John and I summited a few of the Marion hills. In 2006 I went for take-over to conduct more research on the Wandering Albatrosses.
After completing my PhD in 2009, I worked for the Southern African Butterfly Conservation Assessment (SABCA) and M2 Environmental Connections (as an environmental consultant). Thereafter I first worked as the manager of the Conservation Leadership Programme of the Endangered Wildlife Trust (EWT) and then as Biodiversity Information Specialist. A highlight in my research career was to give two presentations on my PhD work at the International Polar Year (IPY) 2010 conference in Oslo, Norway. There I also became involved with the Association of Polar Early Career Scientists (APECS). Later that year I was selected to be on the international Executive Committee (ExCom). After my term on the ExCom, I was still actively involved on the Council. In 2012, I was selected as one of the Mail & Guardian's 200 Young South Africans.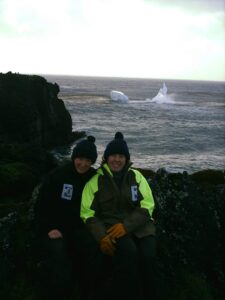 On 27 February 2013, I received a phone call from Bruce Dyer asking if I would be interested to go to Marion Island as their one birder had withdrawn from the team. I had 24 hours to decide! Fortunately the timing was perfect as my contract with EWT was until the end of February. In April 2013 I sailed again to Marion Island as Department of Environment Affairs: Oceans and Coasts birder. What an amazing feeling to see Marion Island again! I therefore had the opportunity to travel on both the SA Agulhas and SA Agulhas II and to live in both the old base and the new base. My previous year on the island was during the construction time, so as a member of M70 I first experienced the isolation of only seeing the "Red Taxi II" a year later. I treasure memories of braai evenings in the braai room with its beautiful views, theme parties and unique hut radio communication.
After returning from the island, Prof Underhill suggested that I study education. In his words: "There is a difference between having been there to tell a child about an albatross, or just teaching from a textbook". I completed the Postgraduate Certificate in Education (PGCE) at the University of Cape Town in 2015. During this time I also worked ad hoc. for Antarctic Legacy of South Africa (ALSA) through Facebook communication and spreading awareness at schools.
In 2016 I took up a post at Protea Heights Academy in Protea Heights (PHA), Brackenfell teaching Natural Sciences and Life Sciences. In 2018 I taught at a rural community school, Sterkspruit Christian Private School in what used to be Transkei. I lived in the picturesque Lady Grey at the foothills of the Drakensberg. In October 2018 I returned to PHA teaching Life Sciences.
PHA invited Antarctic Legacy of South Africa to take part in our Women In Science event August 2019, where Anche Louw presented on Marion Island to the school hall filled with primary and high school girls and female educators. At one point she asked learners who knew what an albatross looks like to put up their hands. Afterwards my learners proudly told me that they all had their hands up! In 2019 I was selected as 1st Runner up in the National Teacher's Award for Excellent in Teaching Natural Sciences (GET) for Metro East and North Education Districts.
From 2020 PHA is one of the 6 nodal schools for the new Gr 10 to 12 subject Marine Sciences, in collaboration with Two Oceans Aquarium (the writers of the curriculum). I am now the departmental head of Marine Sciences, with Shaun Seaward as colleague. I am also teaching Life Sciences. Recently my learners were involved in the first World Albatross Day. Unfortunately due to COVID, plans that John Cooper and I had to get the entire school involved could not realise. With the international Great Albicake Bake Off as inspiration, I asked my learners (who were all still in lockdown) to make, bake, draw or paint anything creative provided that there was at least one albatross on. In this way they all learned more about albatrosses and enjoyed being creative. Antarctic Legacy of South Africa (ALSA) and the Agreement on the Conservation of Albatrosses and Petrels (ACAP) sponsored posters and books as prizes.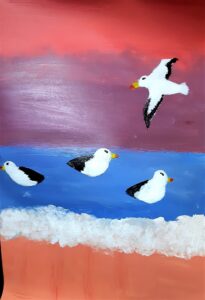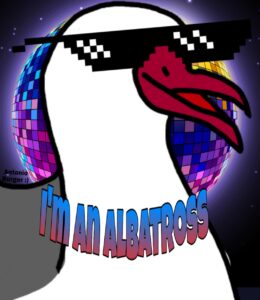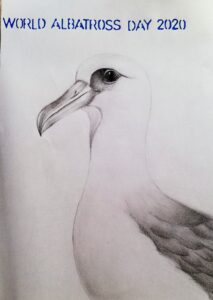 I am blessed that I am able to combine both my passion in marine biology as well as education. Life does not always take you where you thought it would, and sometimes you struggle over symbolic lava such as found at Blackrocks Plateau. But if you "Just keep swimming" as Dory from Finding Nemo said, you will see beauty around you such as the flight of the albatross, a sunset at Swartkop amphitheatre or the smile of a learner. Text and images supplied by Mariette Wheeler. Visit the ALSA archive for more images of Mariette on Marion Island.
Ria Olivier, Antarctic Legacy of South Africa, 25 September 2020.