The SCAR-Executive approved support for work to be undertaken by the Standing Committee on the Humanities and Social Sciences about the impacts of COVID-19 on Antarctic research and researchers. Should anyone wish to communicate with the community considering these questions please get in touch with the SC-HASS group leaders. Background to the survey can be found in the YouTube links of SCAR2020 Online:
Plenary Presentation by Dr. Daniela Liggett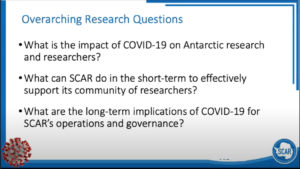 Discussion: Impact of COVID-19 on Antarctic Research – joint SCAR/COMNAP Panel
The SC-HASS Antarctic COVID-19 Research Group has prepared a survey to learn more about the impact of COVID-19 on the Antarctic research community. We invite all Antarctic researchers, support staff, students, and anyone else involved in Antarctic research or logistics to complete this survey. Your response will help us to understand how we as a community are affected and will inform strategic decisions to mitigate impacts. Please share the link to this survey with your networks. Note that the survey is set to close by 8 November 2020. We appreciate your participation before that time. If you have any questions, please contact Andrea Herbert (andrea.herbert@canterbury.ac.nz) or Daniela Liggett (daniela.liggett@canterbury.ac.nz).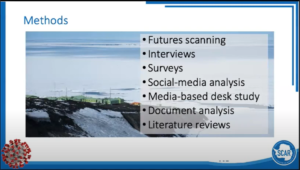 Link to the survey: http://canterbury.qualtrics.com/jfe/form/SV_8qsgGl4oyuVjxQx