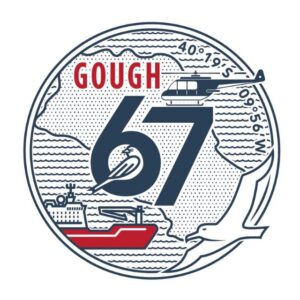 The 67th Gough Island overwintering team, all crew onboard the S.A. Agulhas II, and take-over personnel have gone through an isolation period and Covid19 testing prior to departure to Gough Island. The vessel departed from East Pier, Cape Town Harbor on the 15th of September 2021 and after a stop at Tristan da Cunha, arrived at Gough Island today, 23 September 2021.
This take-over will be led by Mardené de Villiers (Meteorological Officer at South African Weather Service), as Chief Scientist. The team leader of the new Gough Island team (G67) is Sandile Nkebe, who is also appointed as the Medical Orderly of the team. The deputy team leader is Peter Chuku, the Communications Engineer, who has overwintered on Gough Island before (2017/2018).
Three of the team members of G66, Kim Stevens, Vonica Perold, and Roelf Daling, will stay on as part of G67 and continue to play a crucial role in the follow-up stages of the Gough Island Restoration Programme. Read more about this mice eradication programme here.
All the best to all involved in this take-over operations, including the team returning home and to the new team that will be taking over duties on Gough Island.
Meet the rest of the team:
Anche Louw, Antarctic Legacy of South Africa, 23 September 2021