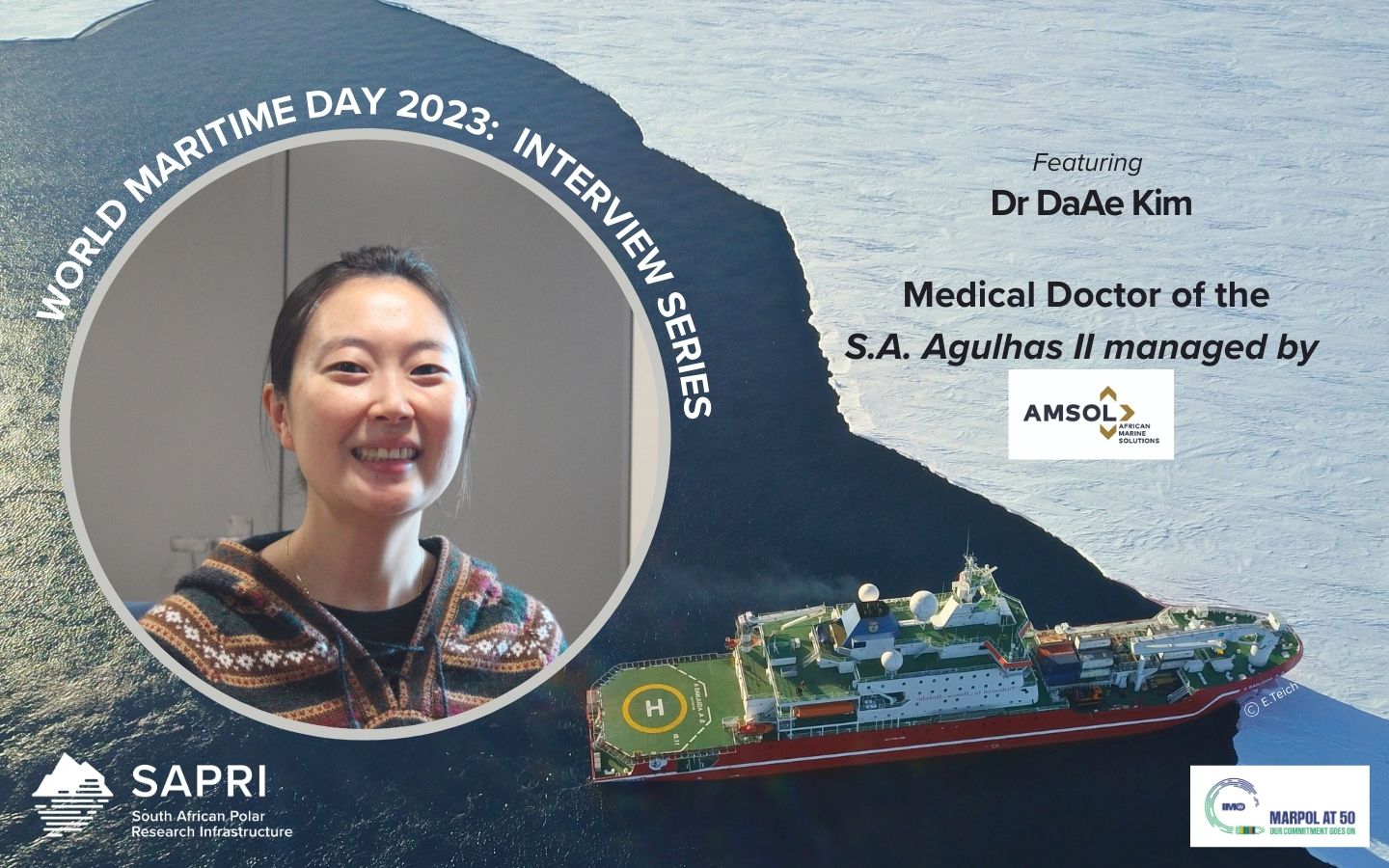 The Maritime Interview Series Part 3 features Dr DaAe Kim, Medical Doctor for the SEAmester VI expedition on board the S.A. Agulhas II.
A doctor on a research and supply vessel serves as a vital component in ensuring the health and well-being of all passengers, including the crew members, providing medical assistance in remote and challenging environments. The doctor's expertise in diagnosing and treating illnesses, injuries, and emergencies is essential for the safety and success of the entire expedition.
Interview with Dr DaAe Kim
What is your background and what type of training did you receive?
"During my time ashore, I am stationed in Cape Town, where I work in a private emergency department. I like to describe myself as a general practitioner (GP) with a background in emergency and trauma training and experience. I obtained my medical degree from the esteemed School of Medicine at the University of Pretoria. Following that, I completed my comm-serve training in Pietermaritzburg, KwaZulu-Natal, and further enhanced my medical expertise by obtaining various medical certificates, including ACLS (Advanced Cardiac Life Support), PALS (Pediatric Advanced Life Support), ATLS (Advanced Trauma Life Support), BSS (Surgical Skills), and Ultrasound. These qualifications have solidified my role as a dedicated and qualified medical doctor".
What do you like the most about your job?
Dr. Kim expressed her deep appreciation for the remarkable experiences that being part of a research expedition offers. She spoke passionately about the opportunity to explore extraordinary environments that would have otherwise been inaccessible to her. Dr. Kim specifically recounted her recent voyage to the sub-Antarctic Marion Island, where she was captivated by the diverse fauna, flora, and breathtaking landscapes. Her enthusiasm for these unique encounters highlights the profound impact that her work has on her personal and professional growth.
What are some of the challenges that you experience when working at sea?
"Enduring extended periods of separation from loved ones, disruptions to daily routines, and the absence of outdoor activities are some of the challenges I face while being away at sea. As an avid hiker, it is particularly disheartening that I am unable to indulge in one of my favorite pastimes while on board".
How does working as a doctor on land compare to working as a doctor at sea?
"Working on a research vessel like the S.A. Agulhas II provides a favorable environment for me to fulfill my duties as a doctor. The advantage of having a controlled group of individuals who undergo thorough medical screenings before embarking on a voyage significantly reduces the likelihood of medical complications. Additionally, the vessel's prioritization of medical resources ensures that we have immediate access to the necessary equipment and supplies, as there are no alternative options available at sea. This setting allows me to focus on providing efficient and effective medical care to the crew members, contributing to the overall success and safety of the expedition".
Any advice to someone who would like to pursue this career?
"Seize the opportunity to gain valuable experience, explore your preferences, and embark on a journey of endless travel!"
The SEAmester VI expedition took place between 19 and 29 June 2023. Read more here.
Mark your calendars for September 25th, 2023, as we proudly present Part 4 of The Maritime Interview Series, showcasing the remarkable Mr. Siyabonga Mtshali. As the esteemed Purser and head of the catering department on the S.A. Agulhas II.
Photo Credit: Rabia Mathakutha (South African Polar Research Infrastructure) and Eduan Teich via the Antarctic Legacy of South Africa (ALSA) Archive.
Written by: Rabia Mathakutha, South African Polar Research Infrastructure, 22 September 2023
Edited by: Anche Louw (South African Polar Research Infrastructure) and Ria Olivier (Antarctic Legacy of South Africa)