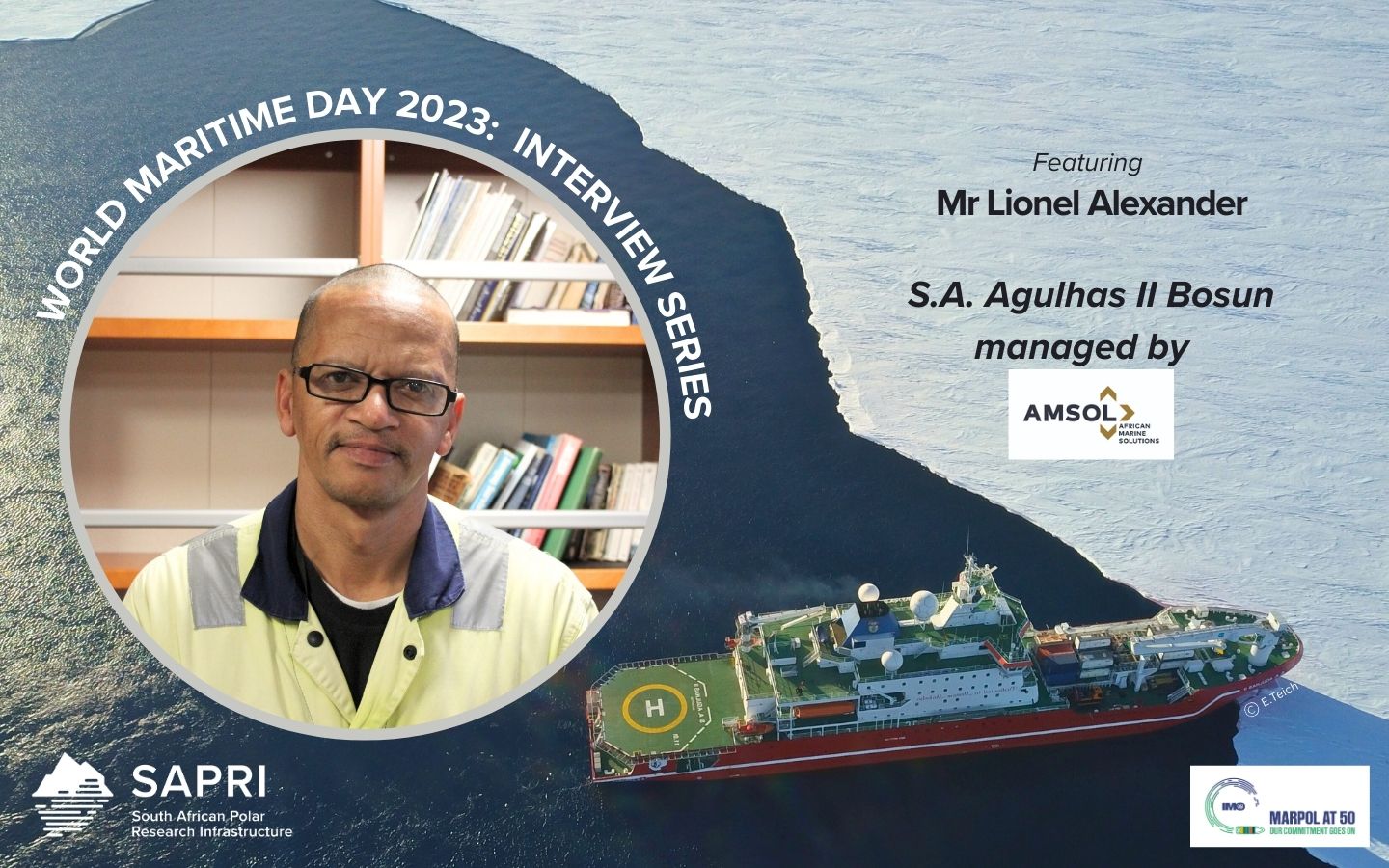 The Maritime Interview Series Part 5 features Mr Lionel Alexander, Bosun (or Deck Supervisor) of the S.A. Agulhas II.
Need to catch up? Click here for Part 1 to 4
Rabia Mathakutha (SAPRI DPS Research Coordinator) interviewed Mr Alexander during the SEAmester VI
expedition

.

What is your role on the ship?

"I am the Bosun, also known as a Boatswain, on the S.A. Agulhas II".

Mr Alexander plays a vital role on the vessel and is responsible for various tasks related to deck operations and maintenance. His responsibilities as a Bosun on the vessel include supervising deck crew activities during research expeditions, deployment of science/oceanographic equipment, mooring anchoring, and cargo handling, ensuring the cleanliness and maintenance of the vessel's deck and equipment, conducting safety inspections, participating in emergency drills, training and guiding deck crew members, and maintaining accurate records.
A boatswain or bosun, also known as a deck boss, or a qualified member of the deck department, is the most senior rate of the deck department.

The Bosun's role is crucial in maintaining the efficiency, safety, and proper functioning of the vessel's deck operations.
Mr Alexander's Background and Journey into a Seafarer Career
Mr Alexander is a third generation seafarer with 28 years' experience in the maritime industry. His experience on research and supply vessels such as the S.A. Agulhas and the S.A. Agulhas II, spans over 20 years. Mr Alexander says he spends 80% of his time in a year aboard and he loves it.
Through his experience as a seafarer, he has travelled to various places, including but not limited to, East Asia, Europe (including England, London, Monaco, Spain), Morocco, Mauritius, Chile, King Edward, and the sub-Antarctic islands and Antarctica. Mr Alexander has also travelled to the remote and isolated Weddell Sea off Antarctica aboard the S.A. Agulhas II, as part of the search of Sir Ernest Shackleton's lost ship, The Endurance. For someone with such a wealth of knowledge and experience, Mr Alexander stroke us as a genuinely humble man, who is adored and respected by his colleagues.
We admire your level of experience, what are some of the life lessons that you have picked up along the way?
'Having the right attitude is incredibly valuable, not just experience".
He mentioned how important it is to learn to interact with people, to respect your colleagues and be a team player, not just in his line of work, but work in general. Mr Alexander talked about how being a Bosun and dealing with people comes with a lot of responsibility, and how he's developed tactics to deal with different kinds of people. Not dropping the high standards he's set for seamanship, is his biggest priority. Mr Alexander surprised us with his experience beyond working as a seafarer as he showed us carpentry items that he makes himself while at sea and on land, together with demonstrating his knowledge of oceanographic sampling. He says that he always tells people, "Don't steal with your hands, steal with your eyes and learn". It was fascinating to learn how much of a curious and faster learner Mr Alexander is.
What do you enjoy the most about your job?
Mr Alexander expressed his love for travelling and savouring the moments that come with long voyages to remote places. He told fascinating stories about how once with his crew aboard the S.A. Agulhas II, sailed through a rainbow and how much it looked like they were sailing into a magical portal, and a story about an-almost deadly encounter with a whale during one of their voyages to Antarctica. He said it's moments like these when he just forgets to grab a camera, and he stops to take it all in; saying that every moment is beautiful, even amidst danger. He also said he enjoys working on the S.A. Agulhas II during research expeditions as he gets to learn from and help scientists, and in essence, accomplishing something as a team.
"Having a strong work ethic that is admired and respected by many, and being reliable to my responsibilities and my team is very important to me", Mr Alexander continued as he added, "in order to lead, one must learn to follow".
What are some of the challenges that you experience in your line of work?
Mr Alexander's role as a Bosun requires him to deal with and supervise many crew members, as such, some of the challenges that he mentioned he experiences in his line of work are dealing with different characters of crew members who do not always follow the rules because not everyone is as dedicated. He said he counters this by learning the individual and treating them accordingly, while providing proper guidance and supervision.
Advice from the S.A. Agulhas II Bosun
When asked what advice he would give to someone who would like to pursue this career or a career in maritime, Mr Alexander joked and said "they must come see the Bosun first", and then emphasised that one must have a passion for being at sea and to never stop learning.
World Maritime Day reminds us of the vital role that the maritime industry plays in our interconnected world. The maritime industry is also particularly crucial in enabling the science and research in the Antarctic region and Southern Ocean through SANAP.
Photo Credit: Rabia Mathakutha (South African Polar Research Infrastructure) and Eduan Teich via the Antarctic Legacy of South Africa (ALSA) Archive.
Written by: Rabia Mathakutha, South African Polar Research Infrastructure, 26 September 2023