INVITATION FOR INNOVATIVE RESEARCH PROPOSALS
40th INDIAN SCIENTIFIC EXPEDITION TO ANTARCTICA (40-ISEA)
National Centre for Polar and Ocean Research, an Earth System Science Organization (ESSO-NCPOR & erstwhile NCAOR), under the Ministry of Earth Sciences (MoES), Government of India, is the nodal agency for implementation of the Indian Antarctic Programme. Hitherto, thirty-nine scientific expeditions to Antarctica have been successfully completed. The fortieth Antarctic Expedition, scheduled to be launched in October- November 2020 is being initiated through this advertisement.
-NCPOR operate two-year round stations in Antarctica, which are~ 3000 km apart
The 40th Indian Scientific Expedition to Antarctica (40-ISEA) embarks on a new journey of scientific research. ESSO-NCPOR welcomes long-term innovative scientific proposals in thematic areas and its sub-themes in different disciplines. In addition to the ongoing programmes
of different institutions, ESSO-NCPOR welcomes scientific projects under the following broad areas with area of focus being Amery Ice-Shelf in Prydz Bay region for multi-national, multi-institutional programme with special reference to geoscientific program viz identification of orogenic and cratonic components to arrive at a refined India-Antarctica geological correlation.
Travel arrangements for all expedition members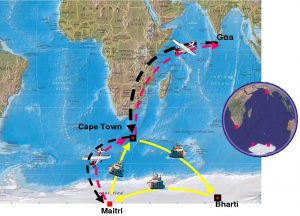 from Goa to Antarctica and back is taken care of by ESSO-NCPOR. Travel only available in Summer Season
Read more about the Expedition on the NCPOR website and download the Call for Research Proposal