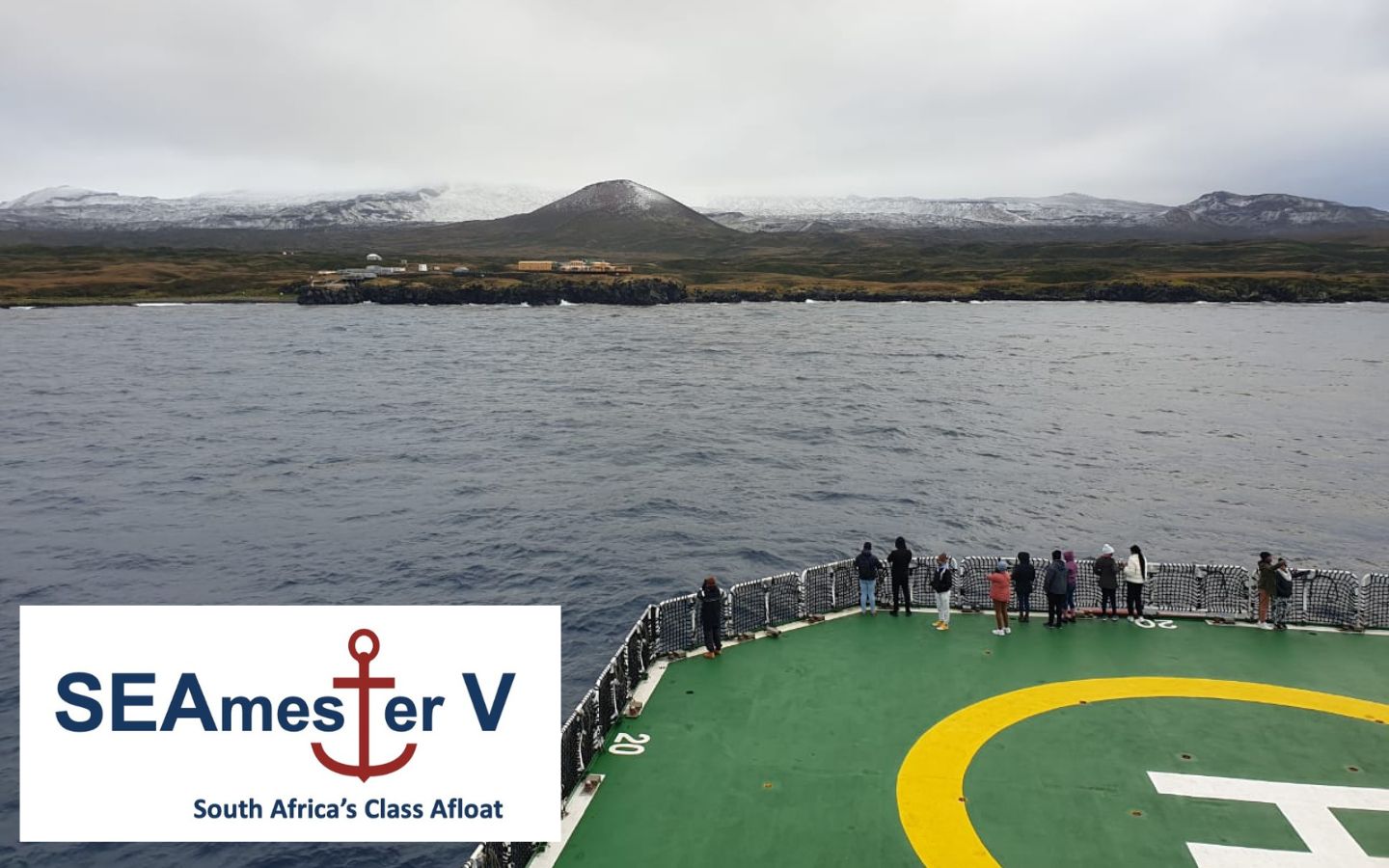 SEAmester – South Africa's Class Afloat was started by Prof Isabelle Ansorge, Head of Oceanography, UCT in 2016 and coordinated by Tahlia Henry.
The program was birthed in the wake of formerly known as DST's, Global Grand Challenge was issued to explore platforms that "attract young researchers to the region and retain them by exciting their interest in aspects of global change; while developing their capacity and professional skills in the relevant fields of investigation". SEAmester has fulfilled this challenge with a program designed to bring together South African postgraduate students, within the marine sciences from over 19+ universities to participate in a multi-disciplinary learning cruise aboard flagship research vessel, the S.A. Agulhas II.
After a long 2-year long hiatus of the SEAmester program, due to the COVID-19 pandemic, SEAmester made a valiant return this year setting sail on the 27th of June – the 8th of July 2022.
A number of eager students applied this year but only 37 were selected and divided into two separate streams, namely "Tools of the Trade" and "Oceans in a Changing Climate". Each stream caters to the vast world of marine science, with "Tools of the Trade" focussing on instrumentation/physical oceanography and the "Oceans in a Changing Climate" focusing on biological/chemical oceanography. Each stream has a dedicated team of lecturers on board who deliver comprehensive lectures and talks followed by hands-on deck work and practicals on a daily basis. A third stream is offered to all students which is the "Art" stream, this allows students to be creative in tasks such as tiled mosaics, photography, and documenting their cruise through film-making.
Meet the Students Meet the Lecturers
Students are also able to interact and work alongside a team of scientists onboard performing research along a monitoring line – ASCA (Agulhas System Climate Array). This year, SEAmester took on a slightly different cruise plan with a detour to the sub-Antarctic Prince Edward Islands. The science objectives on board were altered to accommodate the detour and set to hunt down and sample an anti-cyclonic eddy forming off the Agulhas bank.
Students were exposed to exciting benthic dredge work, CTDs casts, and Argo Float deployments across the anti-cyclonic eddy. Aside from their science engagements on deck, students were tasked with a number of projects and practicals which they presented on towards the end of the voyage. Students were given a full schedule but the highlight of this voyage and the unexpected golden nugget was being able to see Marion Island in the heart of winter, an experience I'm sure most won't forget.
This SEAmester voyage was challenging in many aspects however the rewards far out way any trials we faced. Being at sea has a plethora of challenges which one needs to overcome, even more so when a full schedule is adhered to. But we have no doubt that this year's SEAmester students rose to these challenges and walked away with not only a wealth of knowledge but also learnt some key life lessons and made everlasting friendships. With that said the biggest success of SEAmester remains to be its ability to break down social, cultural, economical, and racial barriers between students and in doing so build the next generation of marine scientists.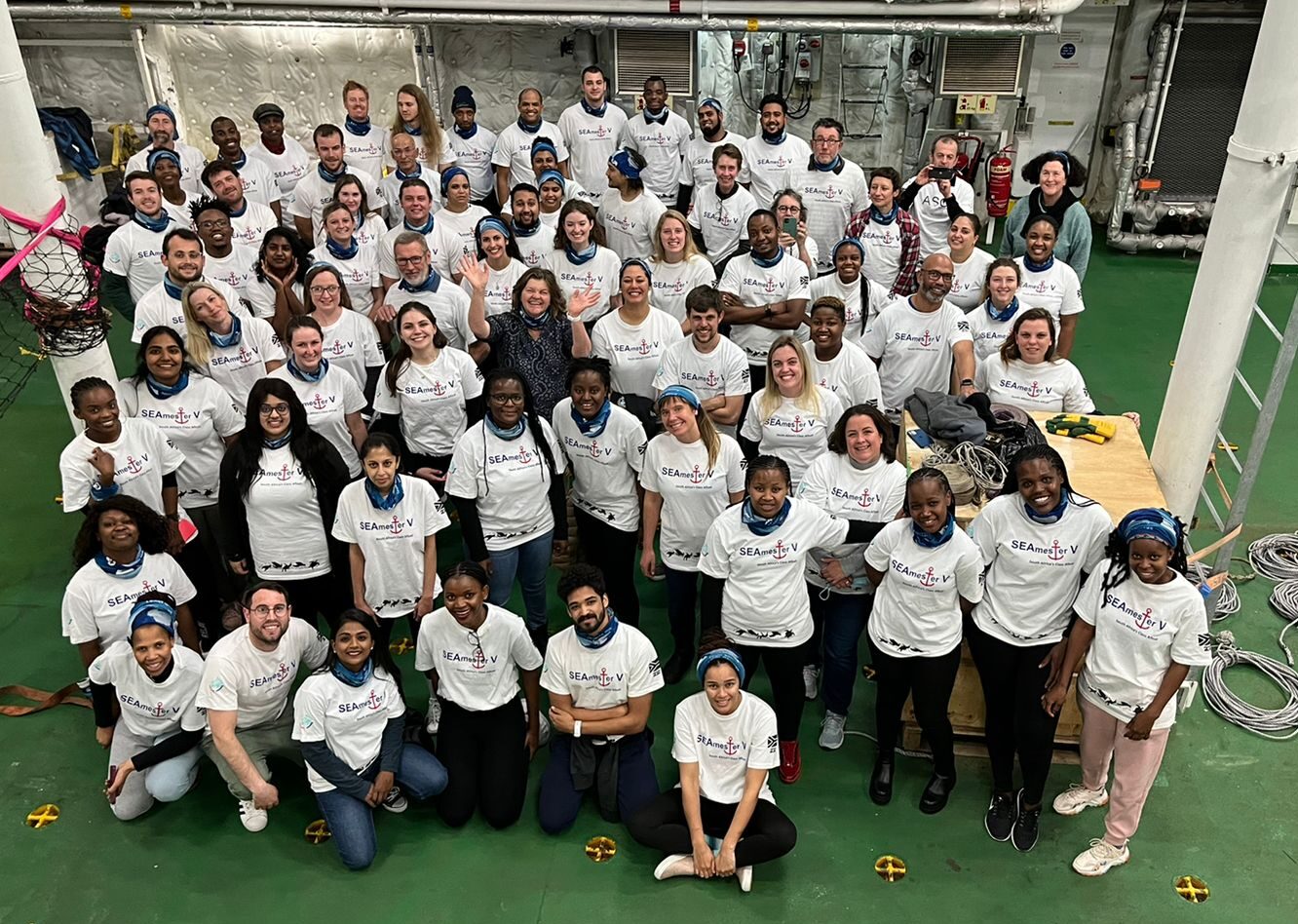 SEAmester V Student testimonials
"SEAmester V exceeded all of our expectations! I am truly blessed to have been given the opportunity to learn from the scientists and gain hands-on experience on the decks of the SA Agulhas II. I will forever cherish the memories & friendships that were made :)" – Zaahid Khan, WITS
"What an opportunity! What a lifetime experience! I'm beyond grateful for the chance I got to be part of the SEAmester Cruise of 2022. I got to experience and appreciate life in the ocean for the first time, met wonderful new people, and got to engage with experts from various fields in the marine sciences. Plus the FOOD was Amazing lol. " – Sitha Ntlokwana, FHU
"The breadth of exposure to the different realms within marine research that SEAmester offered was truly extraordinary! From tiny parasites, to benthic diversity, to large scale climatic patterns, and everything in between. The hands on learning approach and type of sampling that we got to be apart of surpassed my every expectation. SEAmester was truly one of the most unique and exceptional experiences of my life. " – Bianca Ferreira, WITS
"Being a part of the SEAmester cruise has been a once in a lifetime adventure, I am profoundly grateful for being granted the opportunity. I have gained insightful knowledge and expertise of oceanography that I will apply in my studies. The memories made with the scientists I met will forever be in my heart and I'm glad that I can now call them my friends.♥️" – Faith Mshiywa, FHU
"SEAmester was, for me, the best introduction to a research vessel. The experience broadened my view on what opportunities are available in my field and it was great to spend almost two weeks with like-minded scientists. On top of everything we were treated with the view of Marion Island." – Michelle Hamman, NWU
Tahlia Henry, Antarctic Legacy of South Africa, 21 July 2022
Cover photo and article photos: Tahlia Henry.