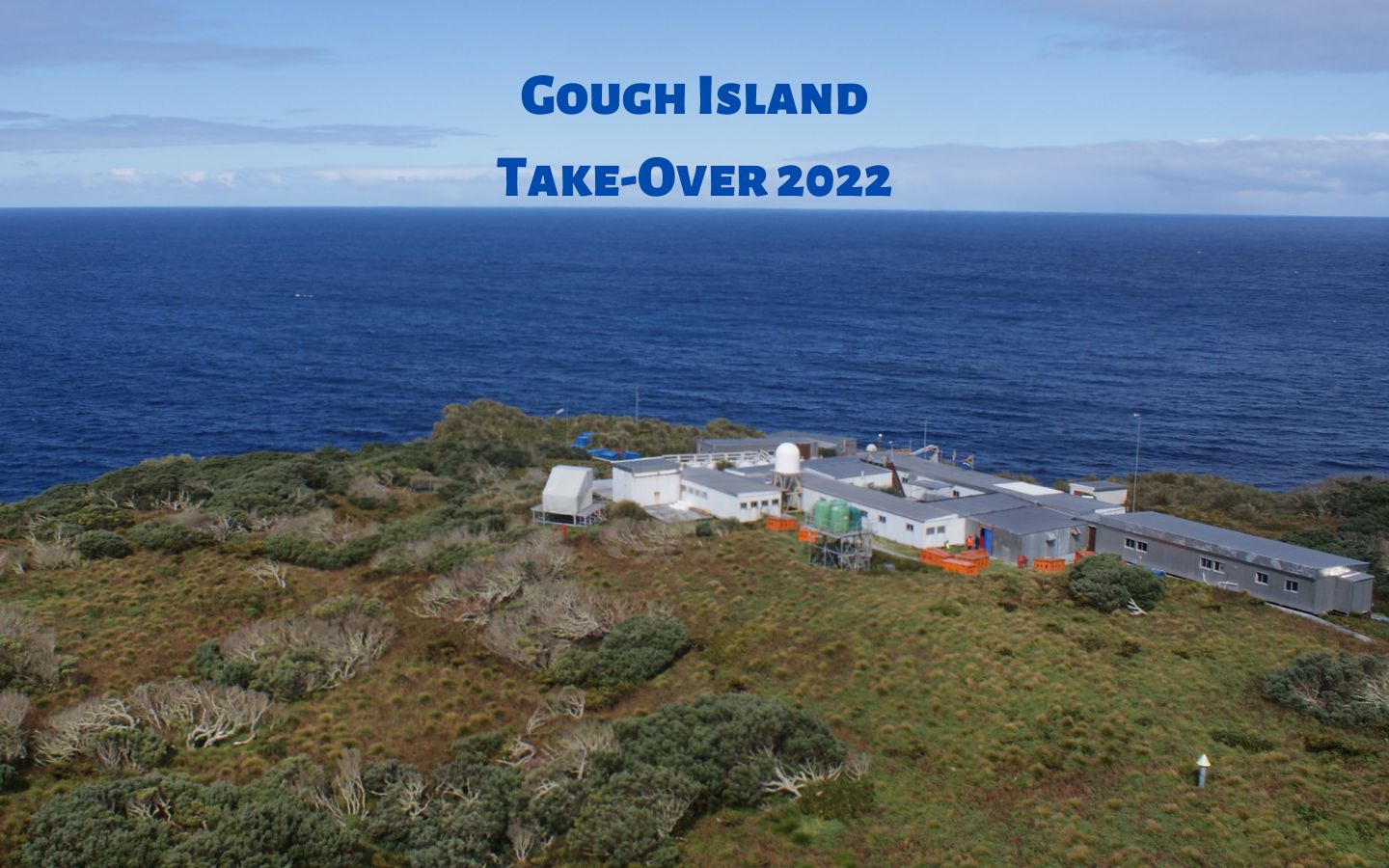 The S.A. Agulhas II departed from East Pier, V&A Waterfront on her annual Gough Island relief voyage on Saturday, 20 August 2022.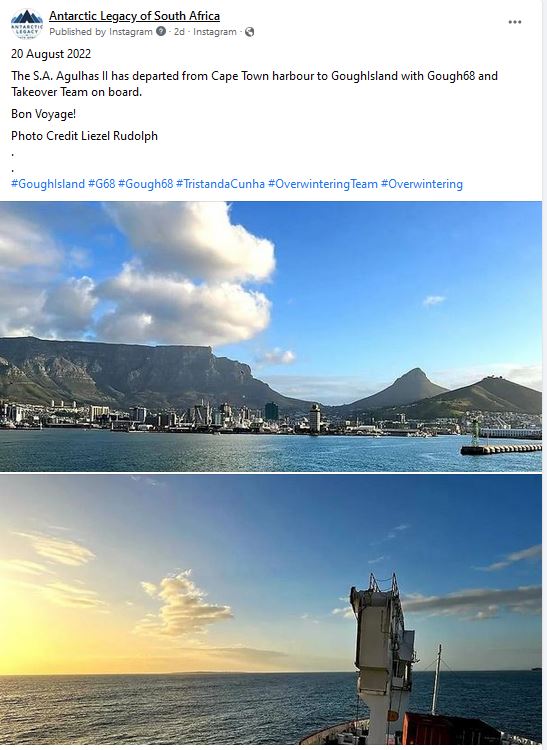 On the way to Gough Island, the vessel will stop at Tristan da Cunha, offloading Tristan passengers and cargo. This stopover will approximately be 60 hours. From here the vessel will depart to Gough Island. Passengers will disembark and cargo will be offloaded with helicopters. Scientific projects will commence.
Onboard are the DFFE Logistics team, the 68th Gough Island Overwintering team (9 team members), the National Department of Public Works (NDPW) maintenance team, Helicopter crew, Scientific personnel, and Tristan passengers.
Logistics Team
Department of Forestry Fisheries and the Environment (DFFE)
Directorate: Southern Oceans & Antarctic Support
Management, logistics and support for this voyage
Departmental Co-ordinator (DCO)
Ms Nomzi Ndzandzeka
Assistant DCO
Mr Zukisa Kuse
Technical Section
Mr Willem Boshoff
Medical Doctor
Dr MC Taggart
Waste Technician
Mr Tatulo Fipaza
68th Gough Island Overwintering Team (Click here for profile pictures of the team members)

Medical Orderly/Team Leader
Mr Joyfull Ntobeko Gaju
Diesel Mechanic
Mr Sibusiso Maduna
Communications Engineer/
Deputy Team Leader
Mr Mayembe Kapenda
Electrical/Base Engineer
Mr Eddy Mfezeko Xaki
Senior Meteorology Technician
Mr Philani Siyabonga Ngcobo
Assistant Meteorology Technician
Mr Khuliso Collen Maphaha
Assistant Meteorology Technician
Mr Mphumzi Brooklyn Zilindile
RSPB Field Assistant
Dr Lucy Dorman
RSPB Field Assistant
Ms Rebekah Goodwill
National Department of Public Works Maintenance Team

Project Manager Leader
Mr Takalani Mudau
Refrigeration Mechanical
& Deputy Leader
Mr William E Kriege
Carpenter
Mr A Petersen
Carpenter
Mr E Roberts
Carpenter
Mr ME Gazi
Bricklayer
Mr MI Jantjies
Plumber
Mr M Maluka
Plumber
Mr MW Samsodien
Plumber
Ms N Sogoni
Painter
Ms B Nelani
Crane Technician
Mr James Page
Crane Technician
Mr L Pierce
Mechanical
Mr J Zeelie
Mechanical
Mr MLG Porta Nova
Mechanical
Mr B Mpengesi
Mechanical
Mr LN Thomas
Helicopter Crew
Team Leader & Engineer
Mr Raymond van der Watt
Captain
Mr Waldo Venter
Captain
Mr Eugene Viljoen
First Officer
Mr Mukapitendwa Khalushi
First Officer
Mr Jason Abrey
Engineer
Mr Daniel Carstens
Engineer Engine/
HLO/Crewman
Mr Warren Vogt
EngineerCrewman
Mr Eduan Teich
EngineerCrewman
Mr Jodi Brophy
Fire Fighter
Mr Zakariah Johnson
Scientific fieldwork planned for the 2022 take-over

South African Weather Service (SAWS)
Atmosphere and Ocean Surface Research
Group Leader
Mr. Julian Grace
Department of Forestry, Fisheries and the Environment (DFFE)
Monitor trends and changes in water quality, provide guidance and support
Group Leader
Ms Silindokuhle Ndlela
Royal Society for the Protection of Birds (RSPB)
Gough Island Restoration Programme
Group Leader
Dr Antjie Steinfurth
South African National Space Agency (SANSA)
Polar Space Weather Studies
Group Leader
Mr Christopher Gray
University of Fort Hare
Landscape and climate interactions (LCI)
Group Leader
Dr Elizabeth Rudolph
Featured Image: Gough Island station (Credit: Julius Klette).

Anche Louw, Antarctic Legacy of South Africa, 23 August 2022