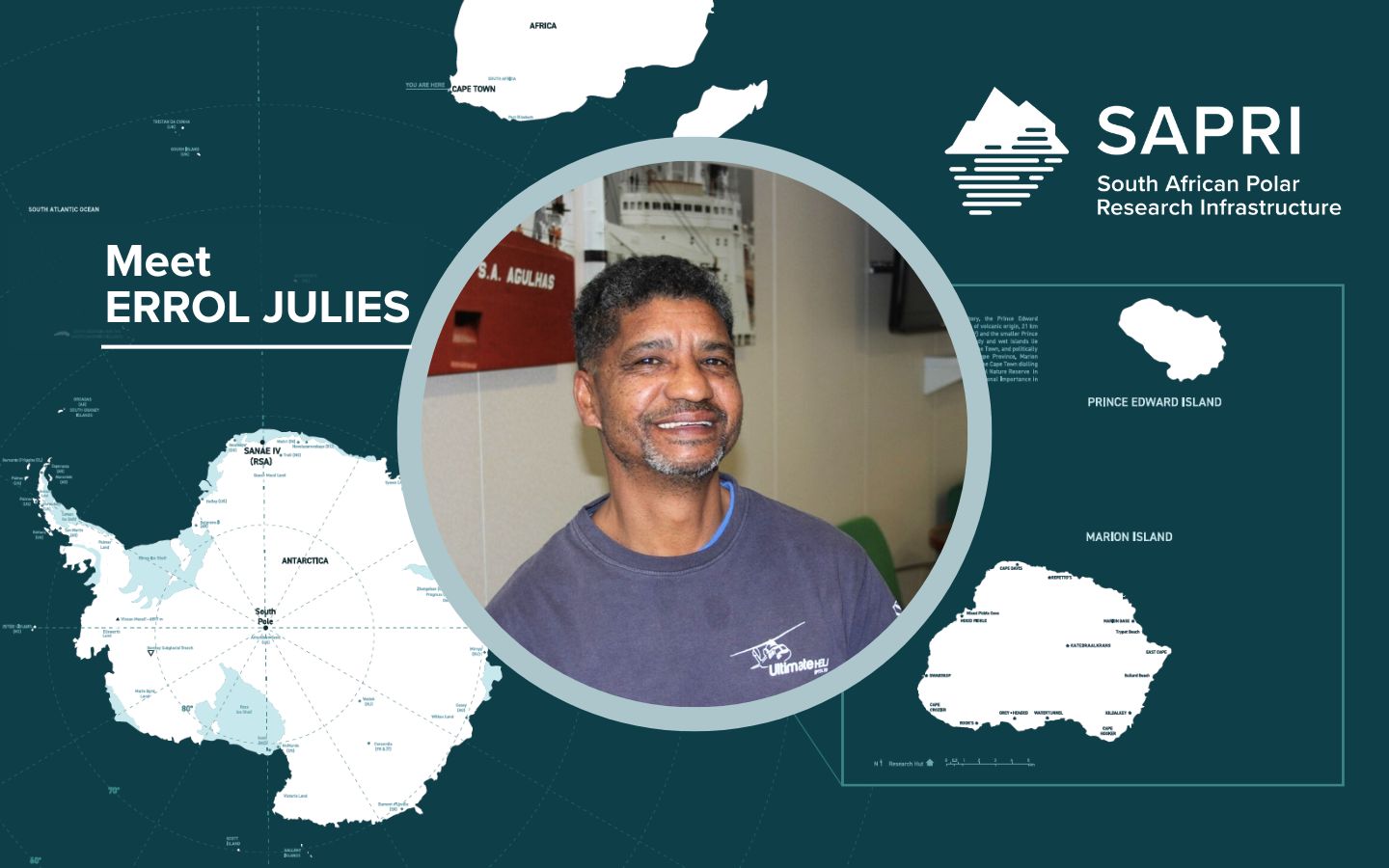 On the 1st of August, Errol Julies joined the South African Polar Research Infrastructure (SAPRI) as a Senior Electronics Technician, bringing with him a wealth of experience and a diverse skill set. His responsibilities at SAPRI encompass the maintenance of offshore marine infrastructure, asset management and supply chain management processes, providing technical support to researchers and students, ensuring compliance with the Occupational Health and Safety Act, and upgrading communication systems at the South African National Antarctic Programme (SANAP) research stations (bases), particularly the High Frequency (HF) systems at Marion Island between the base and field huts. Errol's previous background and experiences make him an ideal fit for his role at SAPRI, where he continues to make significant contributions.
Meet Errol Julies: A Remarkable Journey of dedication and expertise
Errol Julies, hailing from the small town of De Doorns and having attended secondary school in Worcester, has embarked on an extraordinary path that has led him to become a highly accomplished professional in the scientific and research field.
Errol's initial foray into the world of work began as an assistant train driver, but it was his introduction to the scientific realm at the Hermanus Magnetic Observatory (HMO), now known as the South African National Space Agency (SANSA), that truly ignited his passion. Starting as a general cleaner at HMO, Errol simultaneously pursued part-time studies and eventually obtained a BTech degree in Electrical Engineering.
For an impressive 17 years, Errol served as a Geomagnetic Observatory Technician at SANSA. In this role, he excelled in installing, maintaining, and monitoring geomagnetic and Magnetotelluric stations across Southern Africa. These stations adhered to the esteemed INTERMAGNET standards, a testament to Errol's dedication in ensuring their construction and upkeep at the highest level. Additionally, Errol played a pivotal role in training aspiring geomagnetic observers from around the world during the biannual geomagnetic workshops hosted in different countries.
In 2015, Errol joined the Department of Forestry, Fisheries and the Environment (DFFE) as an Engineering Technician, specialising in telecommunications and instrumentation. His responsibilities encompassed managing the Very Small Aperture Terminal (VSAT) communications system from Cape Town to the SANAP bases, conducting calibration and testing of electronic equipment and instruments, and overseeing the maintenance and upgrade of electronic and HF equipment at all SANAP bases in accordance with specifications. Furthermore, Errol took on the role of Departmental Coordinating Officer (DCO), leading numerous voyages to the SANAP bases and successfully coordinating a voyage to Gough Island all by himself.
Driven by a thirst for knowledge and personal growth, Errol completed his BTech degree in Project Management in 2018, despite the challenges encountered during his voyage to Gough Island. In 2019 and 2020, he further demonstrated his resilience and expertise by overwintering on Gough Island as a Communication Engineer and team leader on the 65th Gough Island overwintering team. Currently, Errol is pursuing a Post Graduate Certificate in Education (PGCE), focusing on Mathematics and Mathematics Literacy for the Senior Phase and Technical Vocational Education and Training (TVET) colleges. This endeavor aims to support learners and students in his community through evening classes.
Errol Julies' journey is a testament to his unwavering dedication, expertise, and commitment to excellence. His remarkable achievements and vast knowledge in the scientific and research field make him an invaluable asset to any organisation fortunate enough to have him on board.
Welcome to the SAPRI team, Errol!
Images supplied by Errol Julies.
Anche Louw, South African Polar Research Infrastructure, 13 September 2023